YouTube is a popular video service where you can watch and listen to everything from mega-concerts in the 1970s to cooking.
YouTube's video selection is huge, and it's free. Among other things, a user signed in with a Google Account can subscribe to channels and collect a list for later viewing, and still pay nothing.
However, a paid version of the service is also available.
With YouTube Music Premium's monthly fee, you can, among other things, avoid ads and listen to the service without the Internet.
And for a few more, you get a YouTube Premium APK version that includes both YouTube and YouTube Music.
But why pay if the service can once also be used for free?
YouTube Premium: Get it
YouTube Premium includes features not available in the basic version of YouTube.
The above-mentioned non-advertising prevents the advertisement from dropping the mood in the middle of a concert flair.
The Premium version also lets you download music for offline playback. In addition to music, playlists can be saved in the application.
The recording feature is especially useful if you are planning to travel and do not want to use your phone's data traffic to watch videos or listen to music.
With YouTube Premium, you can also listen to music with the screen closed and videos running in the background, even if you launch another app.
In addition, like streaming services, YouTube has its productions, series, and movies that can be viewed by Premium customers.
YouTube Music is part of Premium
In addition to YouTube, YouTube Premium includes YouTube Music Premium.
YouTube Music Premium is a music streaming service that lets you listen to millions of songs, create playlists, and save your music for offline viewing.
Premium users do not need to view ads. YouTube music Premium can also be purchased separately if you only want to use the music app.
YouTube Premium: That's what it costs
YouTube Premium costs € 12 per month.
YouTube Music Premium alone costs € 10 per month.
Both have a one-month free trial, and the service will send you a reminder seven days before the end of the trial period.
A student and family package is also available on YouTube Premium. The student price is seven euros per month.
Five other family members aged 13 and over can be included in a family package that costs € 18 per month.
Here's how to get YouTube Premium
YouTube is a Google service that requires a Google Account to use Premium.
Open the YouTube Premium website and select Try for free to sign up for a one-month free trial.
Below the page is a link to select a family or student package.
If necessary, sign in with your Google Account, then enter your payment card information.
YouTube Premium is a paid service from Google that gives users unlimited access to all music and audiovisual content on YouTube. Undoubtedly, this version has gained a lot of popularity and has become strong competition for other streams, including Spotify o Apple Music.
However, many people wonder how they can use YouTube Premium for free, especially as many are interested in learning about the features of this new service and how they can increase the stakes offered by YouTube to implement works such as video marketing.
Three months can be free
Users who are interested in purchasing YouTube Premium for free can use their credit or debit card, and it will become a very durable option and easy to use with all the concentration offered by this new version. It's important to know that all you need to do is subscribe to YouTube Premium or YouTube Music and use your credit or debit card information.
Include only payment information, that is, credit or debit card numbers only. If you do this step, you will get three months free and during that time you will be able to use this service without any restrictions. This is a great advantage for those who have few financial resources but want to know how to get this new version.
But it's important to remind users that if they don't unsubscribe before the end of the third month, Google will immediately charge the suscripción for the first month and should also be aware that the rate varies by country. For this reason, it's a good idea to check your budget beforehand before you start using YouTube Premium.
The benefits of family plans
Due to the benefits that many professionals, students, employees, and the general public receive through YouTube, the daily plataformas YouTube Premium and YouTube Music. And many of these people share their orders with the family through a "family plan," which is a valuable help to everyone.
At a much lower price, the family package is the ideal way to get free access to YouTube Premium, but the price also varies by country. With this plan, up to six accounts can be linked, and the owner can assign you one of them without having to pay anything, giving him access to the awesome world of music and movies offered by YouTube Premium.
You can sign up for YouTube Music, where you get unlimited and free music with constant ads, and you can use YouTube Premium in return for watching those ads often. Undoubtedly, the strategy of marketing is very valuable to those who are interested in this digital content and its valuable benefits in business.
A new YouTube subscription offer has been detected in a test called Premium Lite. Google is still looking for new ways to earn our eyeballs in addition to ads.
It also offers ad-free access to YouTube Music Offline downloads such as features that are not included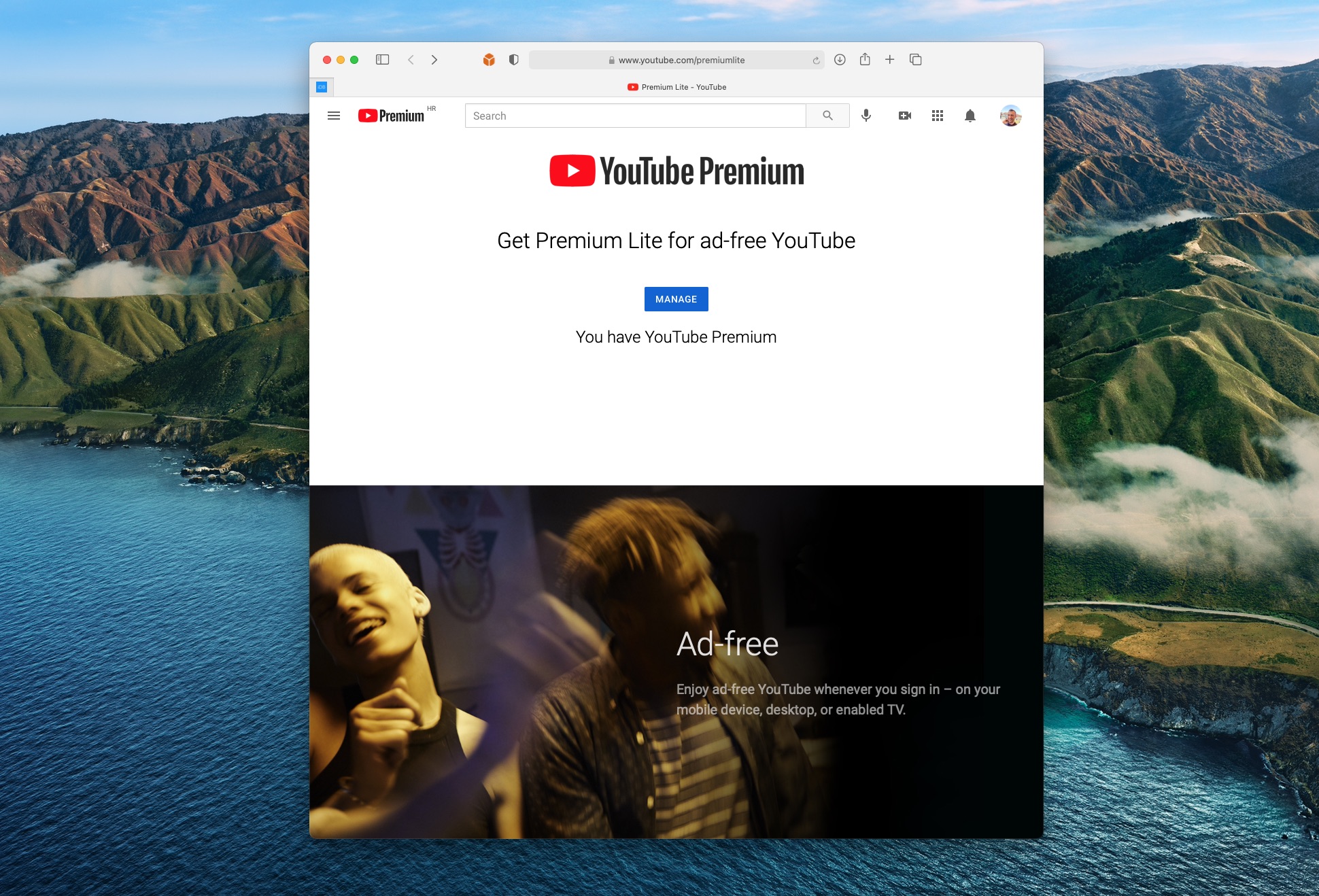 YouTube is currently experimenting with a cheaper Premium Lite subscription option. Google confirms that the test has started for The Vergelle in Finland, among other places.
The YouTube Premium Subscription Package offers an € 11.99 monthly free ad for YouTube and YouTube Music. In addition, the package includes an offline listening option, which allows you to download playlists for playback on your device.
Now YouTube is also experimenting with a cheaper Premium Lite subscription option. It costs just $ 6.99 a month and is targeted specifically at YouTube users. Premium Lite subscribers can watch unlimited videos without ads on all platforms where YouTube works, but offline downloads and play in the background are not included in the subscription.
ADVERTISEMENT (ARTICLE CONTINUED BELOW)
The Premium Lite subscription also does not include any benefits to YouTube Music. So it's clearly a cheaper, but much more stripped-down subscription option for YouTube users than the $ 11.99 Premium.
Trial use of the new cheaper subscription option has now begun in the Nordic countries, with the exception of Iceland, and in the Netherlands, Belgium and Luxembourg.