The income tax department understood the problem of common people and made tax compliance easier. The income tax department classified the taxpayers into many groups as per their income and its source. So, based on the categorization, the returns must be filed appropriately. One of the new IT Return forms is the ITR-1 which is also known as Sahaj Form. This return must only be filed by the person whose annual income is up to Rs 50 lakhs & agriculture income up to 5 thousand. So given below are the steps to file the ITR-1 and other things related to the same:
Aadhaar Card Linked with PAN Card Mandatory for Tax Filing
The Income Tax Department ordered that it is compulsory for all the taxpayers to link their Aadhaar card with the PAN card on the official website of the Income Tax Department for filing tax.
Who is Eligible to File ITR-1 for Annual Year 2021-2022?
The person having an annual income of up to Rs 50 lakhs is eligible to file the ITR-1 Form and the form is one page that is easy to fill. The sources from where the income must be up to Rs 50 lakh are-
Income from Salary/Pension
Income from One House Property (except cases where the loss is forward to next year from the previous years)
Income from Other Sources (except winning from Lottery and Income from Race Horses).
In the case of the joint Income Tax Returns in which a spouse or a minor is included then this can only be done when their income is restricted to the above-mentioned specifications.
Who cannot file ITR 1 for Annual Year AY 2021-22?
A person whose income is more than Rs 50 lakhs cannot use or file this form.
A person who is designated as a director in a company or has invested in unlisted equity shares cannot use or file this form.
RNOR (Residents not ordinarily resident) and non-residents cannot use or file returns using ITR -1
The person who has earned income via the below-mentioned method are not eligible to use or file the form ITR-1:
More than one House Property
Taxable capital gains (Short term and Long term)
Agricultural income more than Rs. 5,000
Business and Profession
A person who is a Resident and has assets (including financial interest in any entity) in foreign or signing authority in any account located in foreign.
A person claiming relief of foreign tax paid or double taxation relief in the under section 90/90A/91.
Structure of ITR 1 Form
Part A – General Information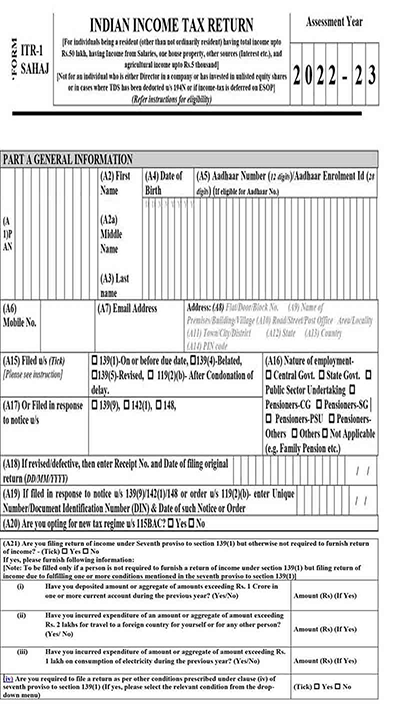 Part B – Gross total Income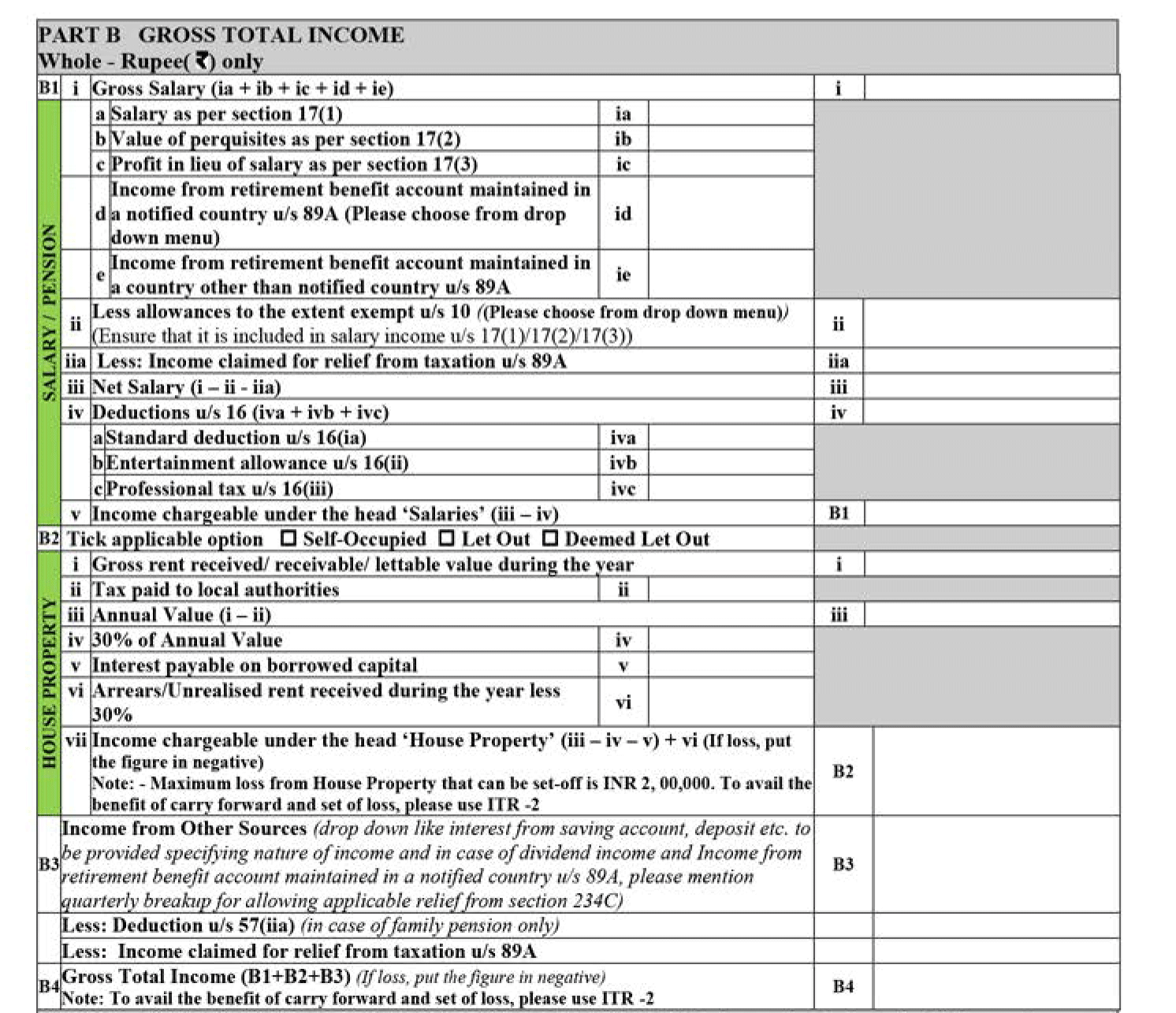 Part C – Deductions and taxable total income

Part D – Computation of Tax Payable

Part E – Other Information

Schedule IT – Detail of Advance Tax and Self Assessment Tax payments

Schedule TDS – Detail of TDS/TCS

Verification

How to File ITR-1 Form?
The ITR-1 Form can be filed either by an online method or by an offline method.
Offline:
The eligible person who can file the return offline or in paper form is mentioned below-
A person who turned 80 last year or is above it
An individual or Hindu Undivided Family (HUF) whose income is not more than Rs 5 lakhs and who did not claim any type of refund in the return of income
The offline mode for filing the ITR-1 Form is done in physical paper form. For submitting the physical paper return, the Income Tax Department issues an acknowledgement.
Online/Electronically:
By transmitting data electronically and then submitting validation of returns to CPC, Bangalore as ITR-V.
By filing the return online and e-verifying the ITR-V via net banking/Aadhaar OTP/EVC.
The filing of the return is done electronically, then the acknowledgement will be sent to the registered email id. And the other option is to download it manually from the official website of income tax. Then the person has to sign it and send it to the CPC Office of Tax Department in Bangalore within 120 days of filing the return. One can also e-verify the return. Apart from it, Govt authorized tools are also taken under consideration, for example, to E-filing income tax returns via Gen IT software.
Major Changes Which are Made in ITR 1 for the AY 2021-22
For the financial year 2020-21, the ITR-1 form does not apply to a person who is either designated as a director of a company or who has invested in unlisted equity shares.
In Part A, under the 'Nature of employment section, the 'Pensioners' checkbox has been introduced.
The returns filed under the section have been separated between normal filing and filed in response to the notices.
The deduction under the salary will be divided into standard deductions, entertainment allowance, and professional tax.
The taxpayers must compulsorily give detailed information on the income under the 'Income from other sources.
For family pension income, a separate column has been introduced under the 'Income from other sources' for deduction u/s 57(iia).
Under 'Income from house property, the 'Deemed to be let out property' option is now available.
For senior citizens, section 80TTB has been added.
FAQs on Income Tax Return Filing
What is the Meaning of Income Tax Return?

An Income Tax Return (ITR) is a statutory form in a specified format with the particulars of annual income earned and tax liabilities paid on it by a person in a financial year. In short, an ITR is a reporting, of income & tax liabilities, by a person to the income tax department.
Different Income tax return Forms have been prescribed for different kinds of income and its status which means depending on the nature & status of the income, a taxpayer chooses as to which ITR form he needs to download and file. The form is available for download on the www.incometaxindia.gov.in

What are the Advantages of Filing an ITR?

Filing of return is a statutory obligation which should be duly executed as it not only keeps in good books of government but also makes you a contributor in the national development. Besides, an income-tax return act as evidence of your creditworthiness before banks and other financial institutions and so facilitates you with easy availing of loans. It also helps you carry forward the losses and claim the tax return when an excess tax has been paid.

Who is Required to Fill Schedule FA (Foreign Assets)?

Applicability Of Schedule FA: If an individual (not being a citizen of India) is in India for a business purpose, employment or student visa purposes and he acquires any asset during the previous year in which he was a non-resident, such asset shall not be required to be reported in Schedule FA – details of foreign assets and income if no income is derived from that asset during the current previous year. That means the requirement to fulfil schedule FA is only for Resident Indian who is having Income from any sources outside India or signing authority in any account located outside India.

How to Upload Defective Return u/s 139(9)?

Nowadays department is sending notice to assesses who are not filing their Income Tax return as per ITR validation rules.

If assessee is not following Income tax validation rules available for every ITR form on ITD portal then department consider these Returns as defective returns like for example if assessee offers income under Schedule BP and not disclosing Balance Sheet and Profit and loss Account in ITR Form then a notice U/s 139(9) has been issued to the assessee by ITD that assessee offered Income under schedule BP and Balance Sheet and profit and loss is not filled.

In that Case, the assessee has to make changes in his original ITR form and FILE THE ITR in response to notice u/s 139(9) by inserting CPC Communication No. and Notice the date of 139(9)

After that assessee has to Login on ITD portal -> E-File -> Upload Return -> In Response to notice u/s 139(9) and upload the XML file.

Is Aadhar Number Necessary to Link While Filling Income Tax Return?

Yes, as per the latest government announcement, all the business units and taxpayers are obliged to present their Aadhar number while filling income tax returns and also when applying for a new Permanent Account Number (PAN). Further, the taxpayers are required to link their PAN number with Aadhar numbers and on a strict basis, the PAN cards which are not attached to the Aadhar Numbers will be deemed invalid.

How can One Revise Income Tax Return?

A return can be revised u/s 139(5) before processing by the department or before the expiry of the relevant assessment year whichever is earlier.
While uploading original return if assessee forgot to disclose any income or claim any deduction or he wants to change particulars of ITR he can do revision in his ITR by uploading revised return.

How an Excess Tax Paid by a Taxpayer is Refunded?

Taxpayer can claim ​​​the excess tax as refund by filing an ITR. Income Tax department refunds the excess tax to the taxpayer by crediting the amount in the taxpayer's bank account via ECS transfer
Download free trial of Gen Income Tax software from the official SAG-Infotech website and prepare returns. It has the capability of e-filling to upload returns.