Stunning Gibeon Meteorite ring set made with Cobalt sleeves. The Men's ring is 6mm wide and the women's is 3mm wide and each features a proprietary comfort fit for optimal wearing. The Gibeon meteorite name was chosen by the town in Namibia Africa where it was first discovered. Gibeon meteorite is considered the best and most stable meteorite to make jewelry with. Each ring is acid etched to bring out the brilliant widmanstatten lines that were formed as the meteor hurled through space towards the earth.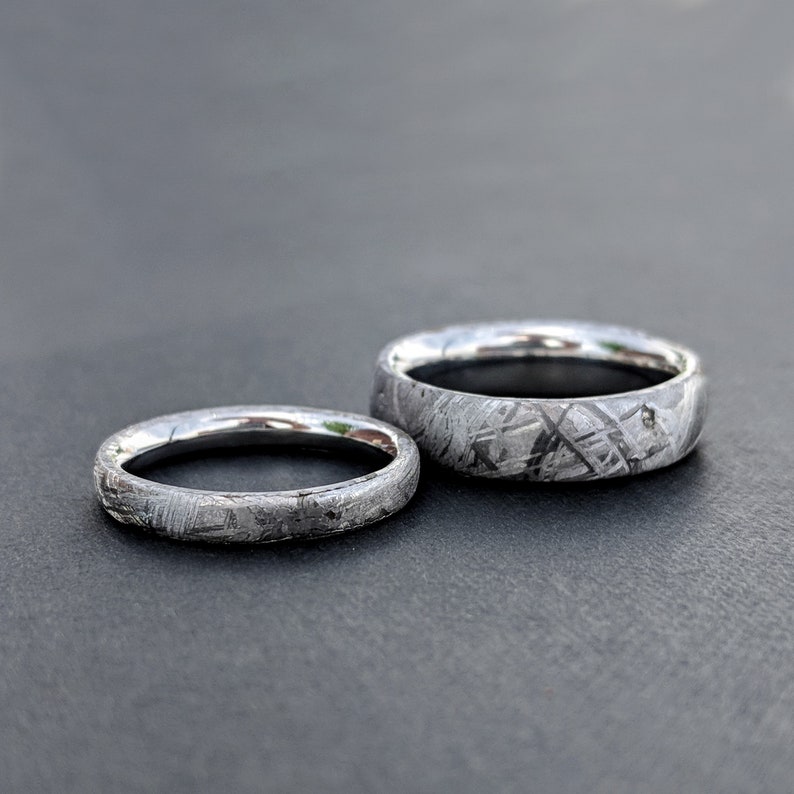 The first two pictures shown were taken with my cell phone and the 3rd was taken in a lightbox.
Manufactured With Gibeon Meteorite
Men's Ring: Cobalt Sleeve 6mm Wide
Women's Ring: Cobalt Sleeve 3mm Wide
Customization Available (email for details)
SKU: COB-SET-Met-3HR & 6HR Meteorite Gibeon
Cobalt Metal Details:
•Strength: Is wear-resistant (more scratch-resistant than Titanium), high-strength (shatterproof and 5x harder than Gold) and hypoallergenic
•Color: Much whiter than Titanium bands (often compared to Platinum in appearance)
•Weight: Heavier in weight than Titanium (very similar in weight to Gold)
Shop Information:
We are a USA manufacturer that started as a father-son operation and has flourished into a small custom jewelry company. We make each ring to order and every ring is hand-finished by skilled jewelers who understand the jewelry art. We take great pride in our work and are constantly aware of the honor it is to make your special ring or rings. We stand firmly behind our quality of material and work. Because we make our jewelry in-house we are able to bring you the best quality at the most outstanding prices!
Processing Time:
There is a 1-4 business day processing time depending on the complexity of the ring order. Each ring is made to order for you. We do our best to get every order out as soon as possible, as we do realize how important it is to you.
Have questions? Give us a call at (855)236-1100 or send us a message.
Accepted payment methods:
We accept payment via PayPal, major credit cards (AMEX, Discover, MasterCard & Visa), and Etsy gift cards. We use secure encryption to make sure your identity and payment are secure.
Shipping:
FREE US standard shipping takes 2-7 business days for delivery after the ring is shipped. If expedited shipping options are desired or needed, please contact us and we would be happy to help you get your ring sooner.
Please note that we reserve the right to require signature confirmation on any package we ship.
International shipping times and prices vary.
Size Exchanges:
We offer a hassle-free size exchange on your original order within 30 days of receipt. See our size exchange listing below for more details. This listing covers some of the costs associated with resizing your ring.
Customers are responsible to ship the original order back to our shop for resizing and the costs associated with that return shipment. Once the exchange listing is purchased we will send you a return authorization form that needs to be filled out and included with your package.
Refunds:
We offer refunds within 30 days of receipt for any unworn, unaltered, and non-customized items. There is a small restocking fee of 20% for all items as each ring is made custom to order.
Cancellations:
Please request a cancellation within 12 hours of purchase as we start work on your custom rings as soon as possible.
Customer satisfaction is our #1 priority. If any issue arises during your order with us, please contact us so we can work on resolving the matter with you. It is our goal to make sure you are 110% satisfied with all aspects of your purchase. We hope you enjoy your custom-made ring and think of us for any future jewelry (especially ring) needs!