Wearables are the most exciting innovation in the tech-driven world. The gadgets that were designed to interact with other electronic items are now able to interact with humans. Wearables come in many forms, such as watches, wrist bands, neckbands, eyeglasses, etc., and are used in multiple ways. But the most popular use of wearables is tracking fitness regime. Wearables work more closely with fitness enthusiasts. It monitors every essential metric and helps athletes to achieve their fitness goals.  Some of the best app development software solutions available today are focusing more to accommodate the requirements and demands of the wearable industry. Personal fitness trackers ensure that users track their daily activities, and here are some coolest wearables that help them to stay fit.    
List of Top Coolest Wearable
1. Apple Watch Series 7
:  
Apple watch series 7 is a compatible smartwatch that acts as a fitness tracker device backed with Watch OS 8. The smartwatch monitors heart rate, blood oxygen, ECG, sleep, and fall detection.  The fitness or health data collected through the Apple watch can provide deeper insights into the users' physical activity patterns and help to enhance the quality of life. To keep users motivated to their fitness goals the smartwatch allows them to set awards, personalized coaching, and activity competitions.  While performing physical activity if an Apple watch finds irregular heart rhythm it automatically notifies users. Besides that, if users come across a hard fall the watch helps to connect the emergency services by pressing the side button. It also supports a GPS tracking system which means users can navigate routes while running, cycling, or hiking. With all these features and its aesthetic look Apple watch series 7 undoubtedly is one of the coolest wearables on the list. 
2. Athos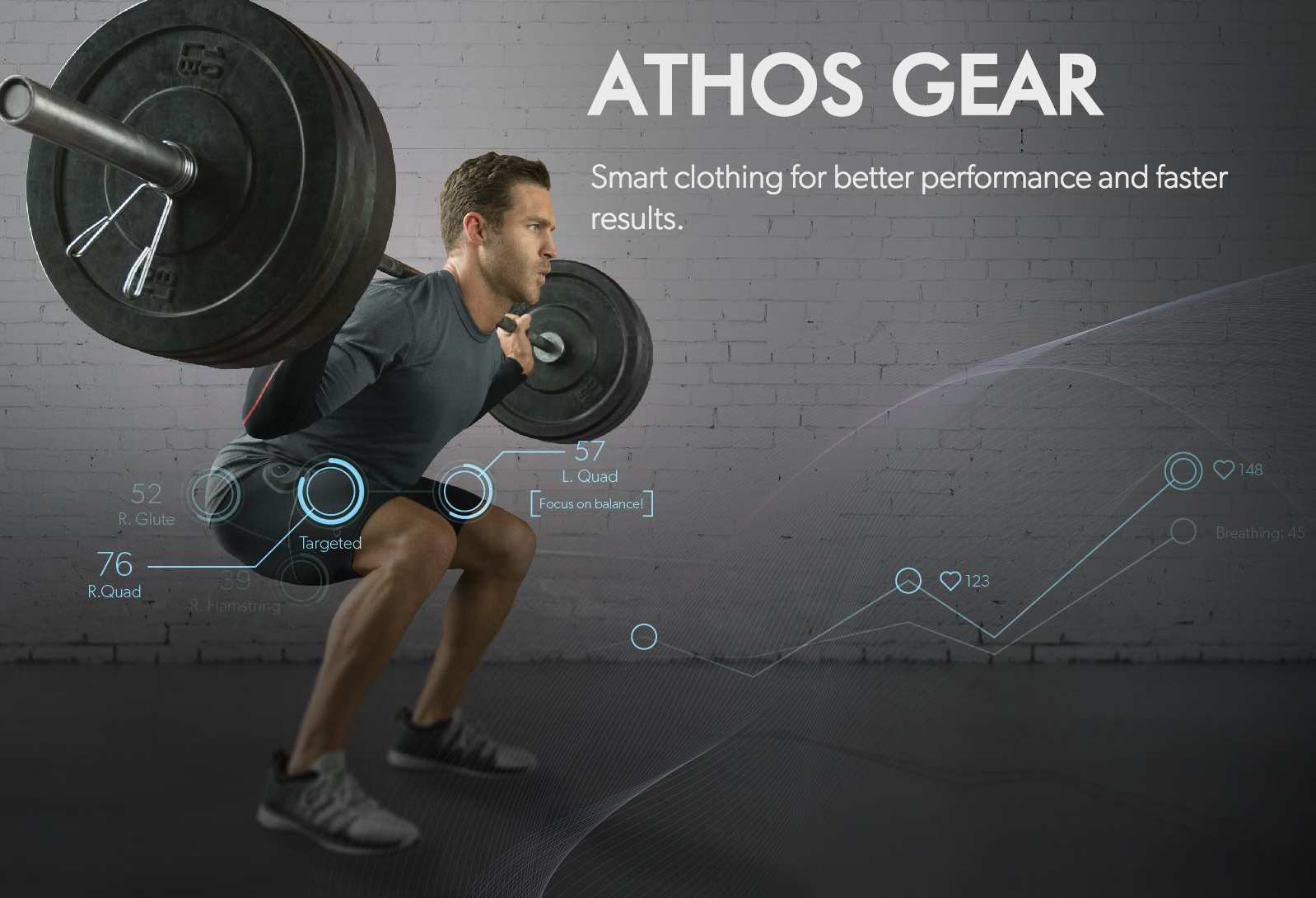 Athos has a range of fitness apparel from shirts, shorts, and pants that come embedded with built-in sensors. The sensor tracks users' heart rate, muscle activity, breathing patterns, muscle fatigue, etc. The sensor is integrated with electromyography ( EMG), a technology that tracks the activity of muscles. The athletes don't have to worry whether their muscles are flexing evenly, and there is no need for the coach to monitor their progress. 
The Athos wearables display real-time stats and reduce the chance of injury. The sensor is compatible with all Athos garments and has a wireless range of 200 feet with a built-in accelerometer. The company provides a 14-day return policy and a 90-day warranty on the apparel. The sensor also tracks average heart rate and peak heart rate, which tells an individual how hard to push.
Also Read:Wearable Medical Device Market Demand, Size, and Forecasts 2020- 2027
3.
BrainTap
:  
Mental health is equally important to stay fit—meditation helps to keep the body relaxed and reduce stress after exercise. Braintap is an LED-equipped headphone and a visor that creates an immersive environment. The device has six guided meditation programs, each covering 20-30 sessions. The device uses machine learning techniques to improve the brain's neural network. It is based on the theory of "neuroplasticity"- the brain's ability to change through growth and reorganization. The device is conceptualized on brainwave technologies fused with light frequency therapy. It produces a 360-degree sound environment that creates a symphony of brainwave activity. The neuro-algorithms gently and naturally guide the brain through a broad range of brainwave patterns.   This experience is elevated with light pulse technology, which travels through the retina and ear meridians through the visor. A session of 10-15 minutes daily can help the brain achieve the state that would otherwise take years to achieve.
4.
Oura Ring Generation 3
:  
For athletes that want to have some stylish and unconventional piece of fitness tracker, then Oura ring generation 3 is the best alternative. The ring records the heart rate during workouts and provides insights post-exercise to check how the body reacts and does it impact sleep quality. The Oura ring generation 3 is powered by a red LED that senses blood oxygen level even during sleep and gives an accurate report on sleep quality. The unique feature of the Oura ring is that it predicts when the user is going to get sick by accumulating temperature data and sometimes even before experiencing any symptoms. The sensor is so sensitive that it picks up even the slightest change in the body temperature. The ring automatically detects over 30 activities and provides insights later on; there is no need to start activity manually.
5.
Fitbit Charge 5
: 
Fitbit Charge 5, owned by Google, is an ultimate fitness partner. The smart band has 20 exercise modes and sets personal goals for walks, rides, and more. The Fitbit 5 can track 20 different types of workouts and can be easily edited through the Fitbit app. Like other wearables, this smart band tracks heart rate, stress level, and routine exercise. Fitbit Charge 5 comes with a host of tools such as breathing rate, skin temperature tracking, daily readiness score, heart rate variability, stress management score, etc. The band has a built-in GPS system that shows users' exact location and acts as a pathfinder. The device is also interlaced with an oxygen monitoring system that checks the oxygen level in the blood and informs users about any changes in the metrics. It is compatible with any phone and makes it easier for users to use.       
Conclusion
As people are becoming more aware of health and fitness, there is an immense opportunity for wearables in this area. As per a report, the fitness segment dominates the wearable technology market and will dominate in the coming years. It allows users to gain better insights into the exercise routine and achieve fitness goals easily. Technological innovation and advancement are further optimizing wearable performance. It is helping them to overcome obstacles such as short battery life, tracking minor details, real-time alerts, slow data processing, etc. 
Besides technology advancement, the factors that boost wearable adoption are the entry of large players, improved sensor accuracy, miniaturization, better security, and portability. In the past, technologies have been limited to communication, but with wearables, humans are discovering new avenues. Wearable technology is becoming a game-changing innovation and the future market looks to be more perspective both for buyers and makers.